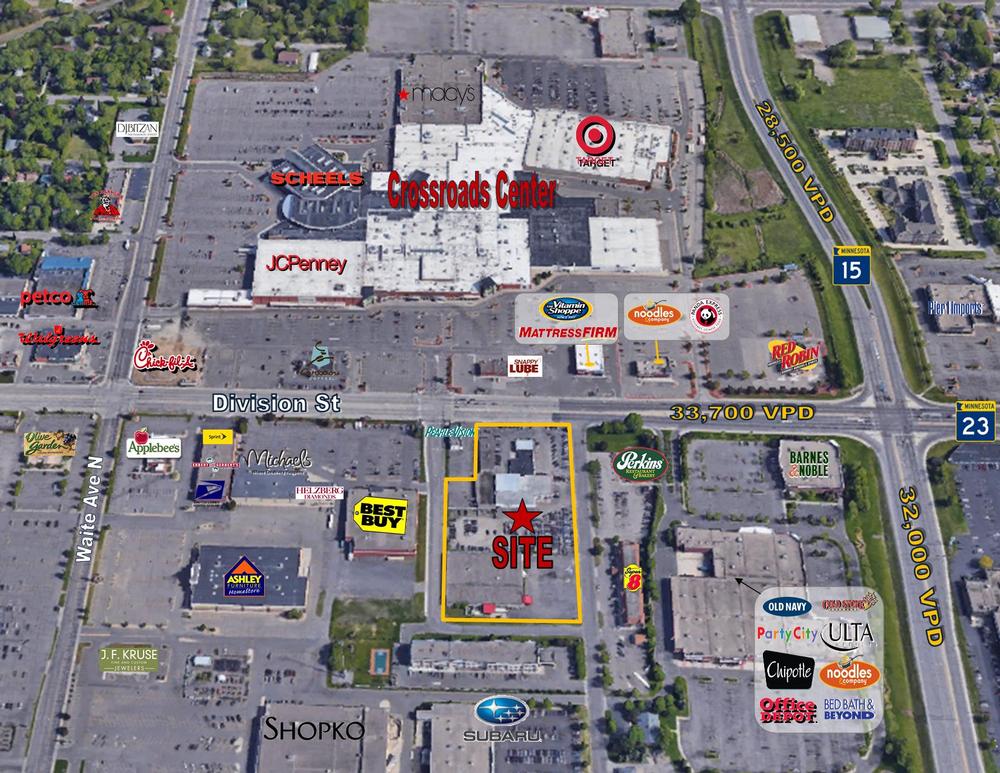 Property Details

Name:

St. Cloud Redevelopment

Property type:

Retail

Address:

4110 Division St

Lease type:

NNN
Saint Cloud, MN 56301
Status:
Available

Building Size:

55,000 SF

Rent SF/Year:

Negotiable

Max SF Available:

55,000

Cam & Taxes:

$0.00

Min SF Available:

958

Year Built:

Co-Tenants
Qdoba, Sports Clips and Freddy's Frozen Custard and Steakburgers.
Comments
* Located at Main and Main of the trade area.
* Site is at the main entrance of Crossroads Mall. The regional mall contains 890,0020 Sf of retail.
* Adjacent Tenants include; Best Buy, Bed Bath & Beyond, Barnes & Noble, Michaels, Office Depot and Ashley Furniture.
* Located near the V.A. Hospital of St. Cloud.
* Visibility from the intersection of Division Street and Hwy 15.

Contact Listing Brokers


Additional Documents




Demographics
(THREE-MILE RADIUS)
Population:

60,588

Average Household Income:

$62,160

Median Household Income:

$43,411

Traffic Counts

Division St: 33,700 VPD
2nd Street: 11,514 VPD